A Negroni. A Manhattan. A Margarita.
Some cocktails qualify as classic. They're a go-to, delicious anywhere you order one. But sometimes, you want something different. A breeze of fresh air on the rocks. Myrtle Beach has plenty of places to find a unique cocktail for that occasion.
It wasn't an easy task, and there are so many wonderful spots on the Grand Strand for drinks. Dive bars and elegant rooms, and more. These are among the favorites for locals and visitors for unforgettable experiences.
Check out These Bars for Unique Cocktails
Art Burger & Sushi Bar
Beach views, imaginative sushi, and tasty burgers — Art is a Grand Strand favorite. Try the Art House Fries and a Picasso Burger. It features local beef, bleu cheese crumbles, and marinated red onions). Art infuses cocktails with liquid nitrogen, which gives them that frothy cauldron look.
CREATIVE COCKTAIL: Blue Crush. Montego Bay Coconut Rum, and Blue Curacao pineapple juice, topped with lemon-lime soda.
Margaritaville Myrtle Beach
A good-time bar at its finest, always serving up the delightful fare. The burgers are incredible, including the iconic Cheeseburger in Paradise®. It's soon to become a must-stop on every trip you take to Myrtle Beach.
CREATIVE COCKTAIL: Who's To Blame® Margarita, lifted straight from the classic song.  Margarita Gold Tequila, triple sec, and a house margarita blend. Enjoy this traditional house margarita frozen or on the rocks.
The Wicked Tuna
What a scrumptious stop for a cocktail in Murrells Inlet. The Tuna serves fresh dishes on cool oyster-shaped plates. Specialties include Ahi Tuna Steak and Filet & Lobster. You'll enjoy the friendly staff and quick, efficient service on the Marshwalk.
CREATIVE COCKTAIL: Inlet Island Tea. This enhanced top-shelf Long Island Tea comes with a Kraken floater.
Ocean Annie's
Escape to the tropics in this spirited beach pub. Drop by for a relaxing snack and drink on the beach. Enjoy live music in this jazzy joint, with excellent bartenders and a cool vibe. This place is famous and has hosted beach fun for more than 35 years.
CREATIVE COCKTAIL: Electric Lemonade. A mouthwatering mix of vodka, gin, sour mix, lemon-lime soda, and blue Curacao.
Tin Roof
Have a blast on the rooftop, with Happy Hour daily starting at 4 p.m. It's an intimate setting with a party feel and also is a place to unwind. Don't miss brunch on Saturday and Sunday, 11 a.m. to 3 p.m. Chicken Tinga and 'Merican tacos are awesome.
CREATIVE COCKTAIL: Brown Sugar Old Fashioned. Tin Cup Whiskey, Brown Sugar Simple, Angostura Bitters, and orange zest.
Enjoy a Great Cocktail On-Site
When you stay at Breakers' resort, you don't have to worry about going out for a wonderful drink. There are two spots on-site to stop in:
RUSTY REEL
Pleasant decor, awesome service, and convenient location make Rusty Reel a great choice. It's newly renovated — if you've been to the Rusty Reel before, you'll love the new look.
Passion Fruit Delight is a favorite (Cruzan Passion Fruit Rum, Cruzan Aged Light Rum, pineapple and cranberry juices with a splash of ginger ale.) It's also home to the famous Voodoo Juice (Cruzan coconut, banana, mango, and pineapple rums, mixed with cranberry and pineapple juices, over ice. With a Cruzan 9 spiced rum floater!)
STRONG WATERS CRAFT COCKTAIILS & KITCHEN

It's a recent addition to the Myrtle Beach scene, serving delicious food in a place locals and visitors have discovered. It's a modern touch to the speakeasy vibe.
Try the Elderberry Mojito or Smoky Old Fashioned, both favorites. The Smokin' Oldie is pretty wonderful, too: Bourbon, house-blend bitters, burnt sugar, orange peel and pressed cherry, with a smoked-bar side.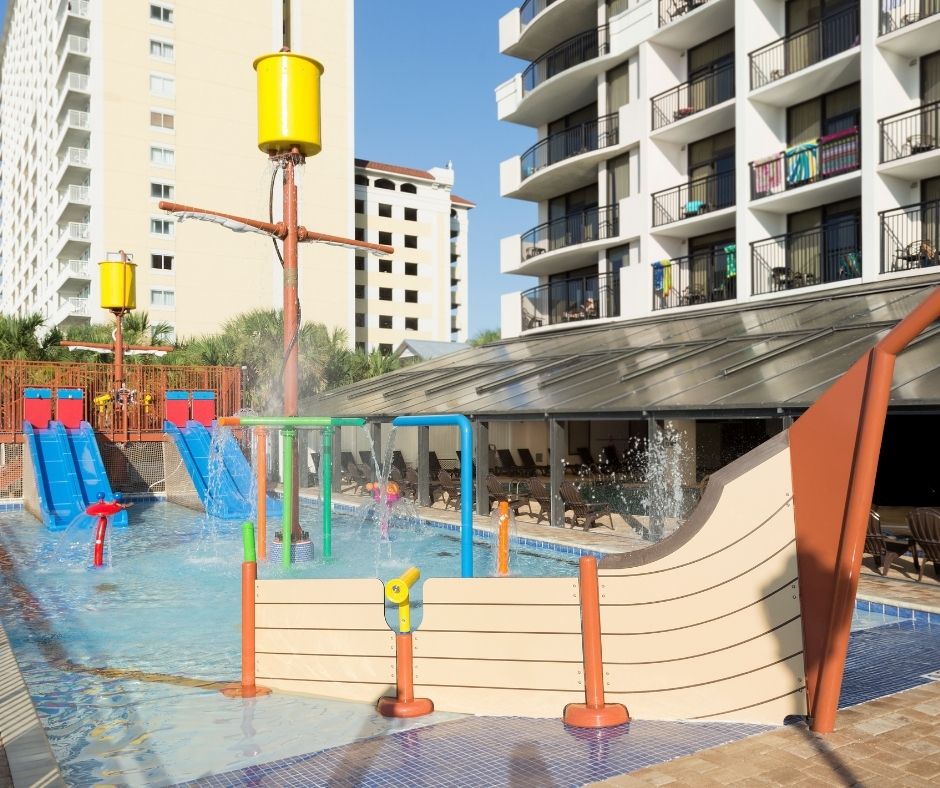 You'll love the Breakers Resort experience. From quick check-in to easy check-out, all you need for a splendid escape is yours. You'll enjoy awesome amenities and attentive staff. Also, it's' a beautiful property in a perfect location. Read about what's happening at Breakers Resort, and make plans to get away there soon.