Chances are, you get plenty of steps in when you visit Myrtle Beach.
On the shore, in the shops, on the golf course … there is plenty of walking going on. When you stay at Breakers Resort, there's a wealth of spots you can get to — and leave your car parked.
Also, check out the accommodations and make your reservations at Breakers Resort today.
Awesome Things Within Walking Distance of Breakers Resort
Bagel Factory
Breakfast is two blocks away with fresh bagels and an array of specialty cream cheeses. Pick up a delicious dozen and keep the whole crew smiling. Choose from 17 bagel flavors and 10 cream cheese varieties for a unique breakfast every time.
Ben & Jerry's
This famous parlor chain out of Vermont has the most imaginative names for its flavors. The Cookie Cookie Sundae is the truth, and so is the Chocolate Chip Brownie ice cream. The staff will wait patiently and give advice if you're struggling to make a choice!
The Blvd
It's a collection of yummy food, good times, and hopping night life.
BurgerFi: It's an eco-conscious joint that serves grass-fed beef burgers and craft beer. It could become your go-to lunch spot your entire stay. The Spicy Wagyu Burger is unforgettable.
Tin Roof: It's a flashy beachfront restaurant, serving Southern-inspired pub grub. Catch live music on a rooftop patio with exceptional views of the beach. The tenders and wings are the best on the Grand Strand.
Banditos: This place packs a good time, with Mexican fare and a relaxed vibe. Do they serve the best margarita ever? You decide. My Darling Clementine is also a cocktail for the ages.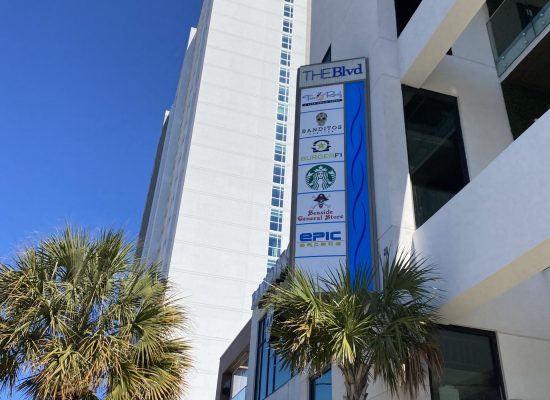 Bummz Beach Cafe
Come chill on the spacious patio with ocean views, burgers, seafood, and steak. Ask a local for a recommendation and they'll likely send you here to sip drinks and enjoy excellent food. It's also a great spot for steamed shrimp and wings.
Hooks Calabash Seafood
All-you-can-eat calabash seafood is a dream in this comfy, nautical-themed restaurant. Come hungry and you'll leave satisfied with a variety of fare, including crab legs. Pick the Farmer Burger or Aloha Chicken Sandwich from the menu, too.
Jaybo's Pizza & Grill
Drop by for a quick bite in this pizza place with unique decor and friendly staff. Quench you late-night munchies with fries and the best mozzarella sticks ever. Nice price, prime location, and a spot you'll want to come back to as soon as you can.
Magnolias at 26th
Hit this diner for breakfast buffet, plus burgers, sandwiches, and more. Have lunch or dinner with friendly service and fair prices in a pleasant environment. Visit for brunch on weekends or get a double cheeseburger and an ice cream cup for lunch.
River City Cafe
Another prime choice for a burger, River City is also a great value, with friendly service. The Cheese Fries don't mess around (neither do the World-Famous Onion Rings!) Check out the House Burger, with a choice of cheese and creamy bleu cheese spread.
Rusty Reel
This bar and grill is awesomely close to your resort and beachside, with cool decor and a stellar drink menu. Get this: There's a juke box, lazy river, and swimming pool with an oceanview there. Hit the downstairs bar for drinks and lunch.
Soho
Visit this eatery for Japanese-Mediterranean cuisine, or after hours, for the nightlife. They're known for excellent service, wonderful food, and a friendly vibe. Veggie Spring Rolls, Salmon Skewers, and Hibachi are divine.
Starbucks
Like this place needs any introduction — you probably spied the sign as you got into town! There's plenty of space, outdoor seating, and the fastest, most skilled baristas around. Everyone has their favorites here, but the Hot White Chocolate Mocha is heavenly.
Strong Waters Craft Cocktails and Kitchen
This locale will take you back to prohibition times, and specializes in locally sourced food. You could make a meal out of appetizers (Wagyu Sliders!) in this chill restaurant, paired with a Berry Derby cocktail. Try a From Another Time boilermaker and a Turkey Club.