Nothing beats a delicious slice of pizza.
Pizza is sweet, rich, and fatty in all the right ways. A University of Michigan study examined foods we can't get enough of, and pizza, unsurprisingly, topped the list. It's a universal comfort food that also signifies good times with family and friends.
Carbs in pizza give your brain a Serotonin boost, which plays a huge role in human happiness. 
Now, we're craving some of the best pizza you can get in Myrtle Beach. We've put together seven favorites in the area you should check out on your next visit. From familiar chains to unique shops, the Grand Strand has some great pizza to offer.
7 Must-Try Pizza Joints in Myrtle Beach
Hit this easygoing place for classic and creative creations. AJ's also serves and delivers baked subs, pasta, and wraps. Try the Supreme. It includes black olives, gouda cheese, green pepper, ground beef, ham, Italian sausage, mushroom, parmesan, pepperoni, pork, and yellow onion.
For innovative 'za you can personalize with uncommon toppings, go to the extreme. You'll love it. They make gourmet signature pizzas, such as The Spice Route. It comes with Chicken, marinated in a spicy Tandoori sauce, green pepper, red onion, cilantro, and mozzarella.
This chain serves specialty thick-crust pizza, plus calzones and desserts. The pizza here might bring back good memories if you enjoyed Godfather's in your childhood. Get the All-Meat Combo, with bacon bits beef, ham, Italian sausage, mozzarella, pepperoni, and sausage.
This funkadelic place has craft beer, stone-baked pie, and delicious wings. Have the Great White. It has an olive oil and garlic base. The toppings: feta cheese, fresh basil, mozzarella, onions, provolone, Roma tomatoes, seasoned ricotta, and sun-dried roasted tomatoes.
5. Michael's Pizza, Pasta & Grill
It's a New York-style pizzeria that serves pasta, heated subs, and other Italian dishes. Michael's delivers fast service and hot pizza to your door, too. The pepperoni pizza is a classic.
This laid-back eatery specializes in fantastic pizza, hero sandwiches, Italian dishes, and pasta. You'll love the friendly service and delicious menu. Order a Sicilian-style pizza. Or, try the White Pizza with mozzarella and ricotta cheeses.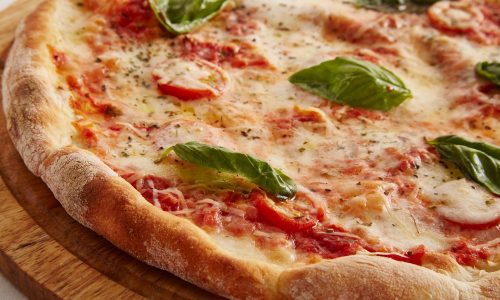 7. Ultimate California Pizza
This cheerful local pizzeria offers loads of toppings (more than 70), a kids' menu, subs, and wings. It's sure to become a favorite every time you visit Myrtle Beach. It's tough to beat the Cali Classic Cheese, with homemade red sauce, covered in mozzarella cheese.
Follow up that incredible slice or two with a stay at Breakers Resort. It's exactly what you want for your Myrtle Beach getaway. You'll want to book your next stay right away. Breakers Resort features The Cove, the Grand Strand's newest waterpark feature. Learn more about the amazing amenities here and book your stay today.